Corporate India 4QFY22 result season is over and we must say that Corporate India Inc delivered a reasonable satisfactory performance in challenging times. While India faced the third wave of Covid-19 in Jan 2022, in March 2022, Corporate India faced supply chain issues along with spiralling commodity prices due to the Russia-Ukraine war. In such challenging times, during 4QFY22, AAA IOP PMS portfolio reported strong revenue growth of 27%, outperforming Nifty revenue growth of 20%. In terms of EBITDA growth as well, the portfolio did exceedingly well by delivering growth of 29% vs Nifty Operating profit growth of 14%.

We have been bullish on the Specialty chemical sector for more than five years and our stand remains positive even today as the companies are continuing to get traction from their global customers. We have increased our weightage in the capital goods sector over the last twelve months and our outlook for this sector continues to remain positive as most of the companies reported the highest order inflow and order book in the last ten years. A detailed analysis of our portfolio holdings compared to its peer group has been given in the table below:

Back to inflation, across sectors, corporate India has witnessed pressure on gross margins (Ref Fig4) and that is likely to continue even during 1QFY23, as it takes typically one to two quarters to pass on the full cost increase to the end customers. We believe that collective policy actions by global central bankers are bound to slay commodity prices and will bring much-needed relief to the sectors which were reeling under input pressure in 2HFY23. The recent cooling-off commodity prices is a positive sign (refer Fig5).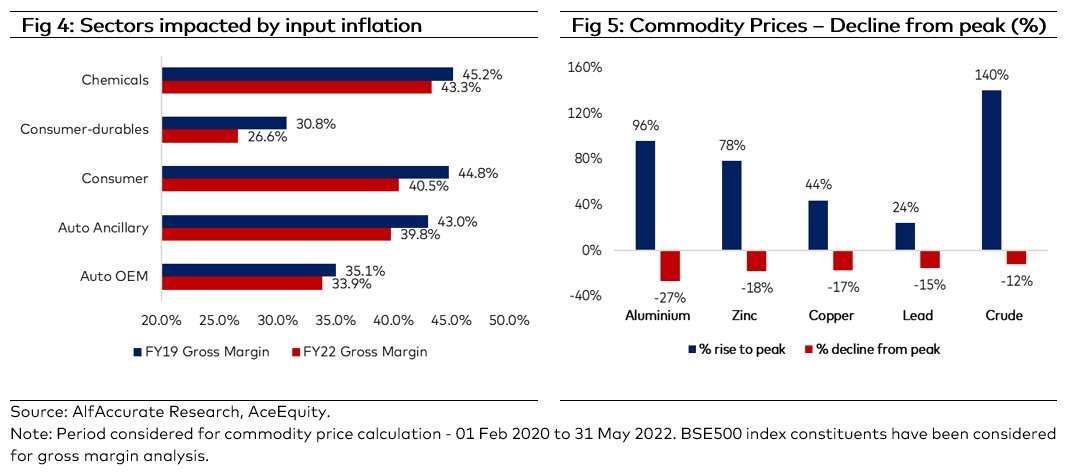 Wild market swings in recent times are a reflection of investors' apprehension of the path forward. Inflation remains hot, and Fed is determined to keep its swift pace of hiking. War continues to rage in Ukraine and countries are still actively considering sanctions, disrupting energy supplies. In such a volatile scenario, it is natural for corporates to give cautious commentary as rising commodity prices and complex supply chain issues adversely impact their profitability. India is relatively less impacted and benefitted from what we call, the "China+1 policy". Strong export growth, lean corporate India balance sheet, cleaner Bank balance sheet, and revival of capex are the silver lines contributing to the resilience of the Indian economy, which is indeed, the fastest growing economy in the world.
While market volatility looks set to continue, the selloff has brought valuations across stocks to more reasonable levels. Nifty now trades below both its 5 and 10-year averages. In 2021, the market was in euphoria as companies with poor fundamentals outperformed companies with good fundamentals. In our view, that is not sustainable, and we have witnessed some reversal of that trend in the recent market correction. While it is hard to call a bottom, the time right now seems to be a good entry point for those invested for the long term. The important thing for investors is to remember is that in prior crises, markets have found a bottom well before the coast was clear.
Key Risks: Supply chain disruptions, faster than expected monetary tightening, geopolitical risks.
AAA PMS Performance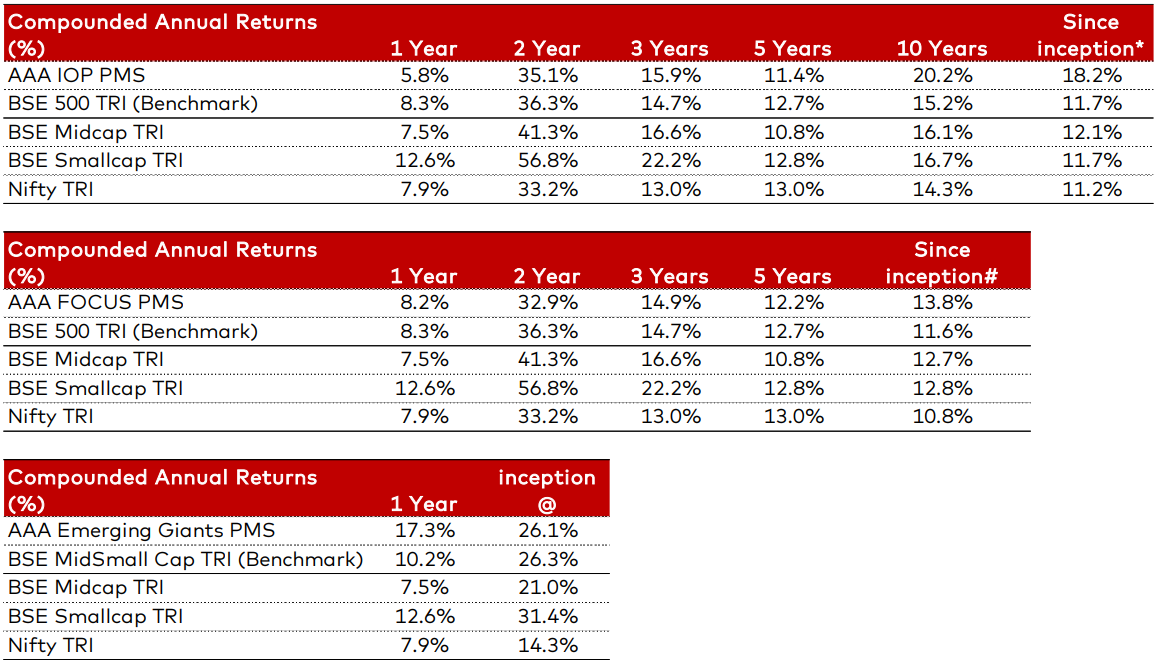 * (23 Nov 2009 – 31 May 2022); #(17 Nov 2014 – 31 May 2022); @(01 Jan 2021 – 31 May 2022)
Performance is after all expenses and fees from April 2018 onwards. Prior to April 2018, the performance is after all expenses and Fixed Management fees. Index performance is calculated using Total Return Indices, as per SEBI guidelines.
Note: Returns of Individual clients may differ depending on the time of entry in the strategy. Past performance may or may not be sustained in the future and should not be used as a basis for comparison with other investments. Performance related information provided herein is not verified by SEBI.
DISCLAIMER: This document is not for public distribution and has been furnished to you solely for your information and may not be reproduced or redistributed to any other person. The manner of circulation and distribution of this document may be restricted by law or regulation in certain countries, including the United States. Persons into whose possession this document may come are required to inform themselves of, and to observe, such restrictions. This material is for the personal information of the authorized recipient, and we are not soliciting any action based upon it. This report is not to be construed as an offer to sell or the solicitation of an offer to buy any security in any jurisdiction where such an offer or solicitation would be illegal. No person associated with AlfAccurate Advisors Pvt Ltd is obligated to call or initiate contact with you for the purposes of elaborating or following up on the information contained in this document. The material is based upon information that we consider reliable, but we do not represent that it is accurate or complete, and it should not be relied upon. Neither AlfAccurate Advisors Pvt Ltd., nor any person connected with it, accepts any liability arising from the use of this document. The recipient of this material should rely on their own investigations and take their own professional advice. Opinions expressed are our current opinions as of the date appearing on this material only. While we endeavour to update on a reasonable basis the information discussed in this material, there may be regulatory, compliance, or other reasons that prevent us from doing so. Prospective investors and others are cautioned that any forward-looking statements are not predictions and may be subject to change without notice. We and our affiliates, officers, directors, and employees worldwide, including persons involved in the preparation or issuance of this material may; (a) from time to time, have long or short positions in, and buy or sell the securities thereof, of company (is) mentioned herein or (b) be engaged in any other transaction involving such securities and earn brokerage or other compensation or act as a market maker in the financial instruments of the company (is) discussed herein or may perform or seek to perform investment banking services for such company(is)or act as advisor or lender / borrower to such company(is) or have other potential conflict of interest with respect to any recommendation and related information and opinions. The same persons may have acted upon the information contained here. No part of this material may be duplicated in any form and/or redistributed without AlfAccurate Advisors Pvt Ltd.'s prior written consent. No part of this document may be distributed in Canada or used by private customers in the United Kingdom. In so far as this report includes current or historical information, it is believed to be reliable, although its accuracy and completeness cannot be guaranteed.