On both a one-year and five-year basis, India's mid-cap and small-cap indices have significantly underperformed their large-cap counterparts (refer Fig1) as investors sought shelter during the difficult times. Focus is now on economic recovery and earnings growth as significant events of the Covid-19 pandemic, the Russia-Ukraine War, high inflation, and heightened rate hikes now appear to be behind us. We think the midcap and small-cap markets in India are budding beasts, well-positioned to deliver strong performance over the long term.
1) Economic recovery = stronger outperformance for mid/small cap:
Midcap and Smallcap stocks have historically been significant wealth creators during India's three periods of rapid economic growth: 2003–08, 2009–14, and 2013–18 (refer Fig2). The relatively smaller size has enabled these businesses to move quickly, demonstrate rapid earnings growth, and demand greater multiples. The government's emphasis on manufacturing, removing supply constraints, and relaxing rules and compliance are expected to help the Indian economy post a robust 11% GDP growth for FY24. Compared to the top 100 companies in the nation (based on market cap), the mid and small-cap companies have more potential to grow quickly in this favourable environment.

2) Improving Fundamentals:
Since FY12, the fundamentals of mid and small-cap companies have dramatically improved. Compared to large organisations, the ROIC of midcap companies is significantly more resilient. Small-cap ROIC has also significantly increased during the past ten years, rising from 12.3% to 16.7% over FY12 to FY22. As a result, there is now a much smaller difference between the ROIC of large cap corporations and that of mid- and small-cap enterprises (refer Fig3).
In terms of earnings growth, mid-cap and small-cap companies are projected to outperform large-cap companies given the economic recovery (refer Fig4). This supports a compelling argument that mid- and small-cap equities should be valued higher than their historical multiples.

Additionally, mid-cap and small-cap indices are more balanced and reflect the overall economy, in contrast to the Nifty index, which is substantially concentrated towards industries like banking and software.
(For our analysis, we didn't include the loss-making businesses in our research because they are typically not investible and skew assessments of earnings multiples across indices).
3) Valuations – Correcting the illusion:
We think that index headline valuations paint an inaccurate image. We eliminated loss-making companies since they distort the true multiples, making it difficult to correctly evaluate the values. After eliminating irregularities, we discovered that mid-cap and small-cap valuations are at a 15% discount to the large caps index rather than a near 0% discount as perceived by the market (refer Fig5).
What is more comforting is Midcap currently trades at PER of 16x FY24E, 14% discount compared to its last 10 years average PE of 18.7x. Small cap is also trading at an attractive valuation of 15.1x FY24E compared to 10 years' average valuations of 14.3x.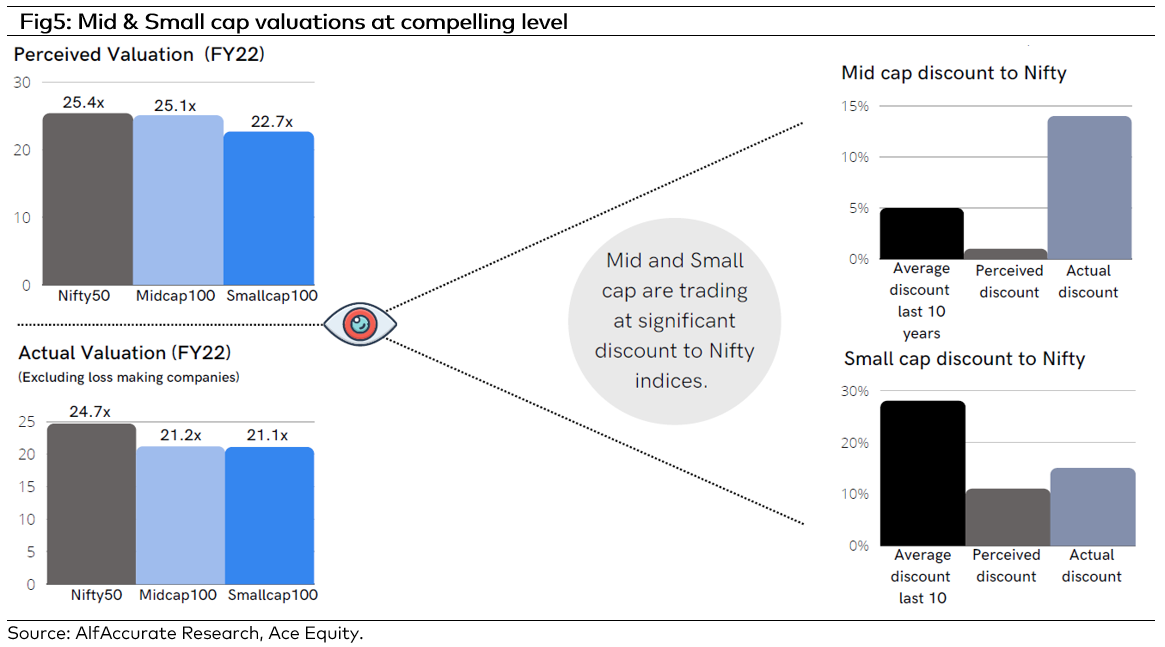 Market Outlook
The finance minister continued to advocate for growth in the Union Budget 2023 while maintaining fiscal discipline. The overall quality of government spending continued to improve, with capex spending expected to account for 22% of total spending in FY24 BE, reaching a 19-year high. After a low base of 6% in FY23, it is projected that aggregate capex spending (including CPSE) will increase by 22.1% in FY24. Direct tax cuts bode well for reviving the consumer sector. In addition, despite being a pre-election budget, FM avoided populist policies. It is reasonable to make the general assumptions of nominal GDP growth of 10.5% and tax revenue increase of 10%. The market borrowings, with gross growth of 8.5% and net growth of 6.5%, are in line with expectations.
We are overweight in the consumer and capital goods industries, which will gain from this budget. Regarding value, the nifty trades at PER of 18x FY24E, keeping up with its average valuations for the previous ten years. With the worst of the inflation and interest rate issues behind us, we think that the current correction and consolidation present a favorable opportunity for investors to raise their allocation to the equity asset class over the course of the medium to long term.
AAA PMS Performance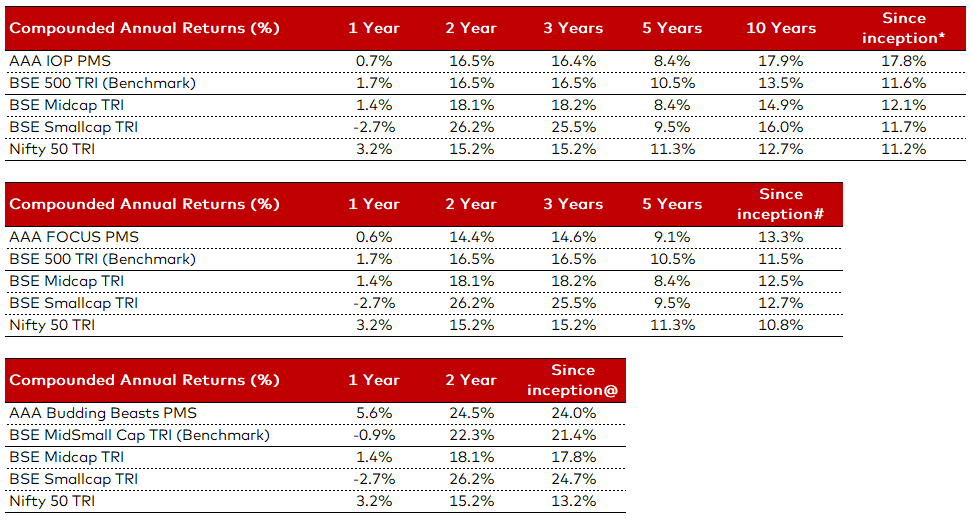 (AAA Emerging Giants PMS Plan has been renamed as AAA Budding Beasts PMS Plan)
* (23 Nov 2009 – 31 Jan 2023); #(17 Nov 2014 – 31 Jan 2023); @(01 Jan 2021 – 31 Jan 2023)
Performance is after all expenses and fees from April 2018 onwards. Prior to April 2018, the performance is after all expenses and Fixed Management fees. Index performance is calculated using Total Return Indices, as per SEBI guidelines.
Note: Returns of Individual clients may differ depending on the time of entry in the strategy. Past performance may or may not be sustained in the future and should not be used as a basis for comparison with other investments. Performance related information provided herein is not verified by SEBI.
DISCLAIMER: This document is not for public distribution and has been furnished to you solely for your information and may not be reproduced or redistributed to any other person. The manner of circulation and distribution of this document may be restricted by law or regulation in certain countries, including the United States. Persons into whose possession this document may come are required to inform themselves of, and to observe, such restrictions. This material is for the personal information of the authorized recipient, and we are not soliciting any action based upon it. This report is not to be construed as an offer to sell or the solicitation of an offer to buy any security in any jurisdiction where such an offer or solicitation would be illegal. No person associated with AlfAccurate Advisors Pvt Ltd is obligated to call or initiate contact with you for the purposes of elaborating or following up on the information contained in this document. The material is based upon information that we consider reliable, but we do not represent that it is accurate or complete, and it should not be relied upon. Neither AlfAccurate Advisors Pvt Ltd., nor any person connected with it, accepts any liability arising from the use of this document. The recipient of this material should rely on their own investigations and take their own professional advice. Opinions expressed are our current opinions as of the date appearing on this material only. While we endeavour to update on a reasonable basis the information discussed in this material, there may be regulatory, compliance, or other reasons that prevent us from doing so. Prospective investors and others are cautioned that any forward-looking statements are not predictions and may be subject to change without notice. We and our affiliates, officers, directors, and employees worldwide, including persons involved in the preparation or issuance of this material may; (a) from time to time, have long or short positions in, and buy or sell the securities thereof, of company (is) mentioned herein or (b) be engaged in any other transaction involving such securities and earn brokerage or other compensation or act as a market maker in the financial instruments of the company (is) discussed herein or may perform or seek to perform investment banking services for such company(is)or act as advisor or lender / borrower to such company(is) or have other potential conflict of interest with respect to any recommendation and related information and opinions. The same persons may have acted upon the information contained here. No part of this material may be duplicated in any form and/or redistributed without AlfAccurate Advisors Pvt Ltd.'s prior written consent. No part of this document may be distributed in Canada or used by private customers in the United Kingdom. In so far as this report includes current or historical information, it is believed to be reliable, although its accuracy and completeness cannot be guaranteed.