The global macro environment has made investors nervous during the last few weeks. The recent US inflation data suggest that the monetary policy fight to tame inflation may be long-drawn, contrary to market expectations, with equity markets gradually reconciling to the 'higher-for-longer' view. In such a volatile and uncertain environment, the divergence between winners and losers becomes stark, and hence, we believe that the bottom-up approach is more rewarding for investors. Moreover, multiple changes are happening simultaneously at an unprecedented pace – government policies, decarbonisation, technology trends, consumer preferences, etc. Such dynamic changes offer a new window of opportunities for the companies and, at the same time, have the potential to make existing businesses redundant. As your investment manager, our job is to identify businesses that can exploit new opportunities, i.e., "winners" and at the same time, avoid businesses that may look great but have a danger of falling into the slow growth lane, i.e., "losers". In the section below, we highlight a few such examples:
Automobile sector:
A typical automobile today consists of 90% hardware and 10% software. Industry projections predict that in the future, software and content will make up 40% and 20% of the market share, respectively, while the hardware will drop to 40%. According to auto experts, the collaboration will be essential because it's challenging for auto manufacturers to survive in the current disruptive environment. The auto industry's fast transformation will significantly impact the auto ancillary sector. The largest gainers from the trend change would probably be companies like Uno Minda, India's top auto accessory firm, as it expects new goods emphasising safety, premiumization, and electronification to account for 50% of its income in the next three years.
Capital goods sector:
India's capital spending is projected to increase from 5% CAGR in FY15–19 to 9% CAGR over the next five years. However, traditional sectors like irrigation, roads, and thermal power plants are predicted to experience a modest CAGR of about 6%. In contrast, sectors like data centers, renewable energy, automation, and robots are anticipated to experience robust compounded growth of ~26% in the coming years. Companies like ABB, Hitachi Energy, and Siemens will benefit the most thanks to their powerful product portfolios and cutting-edge technologies.
Specialty chemical:
The most recent developments in specialised chemicals can be found in the fields of electronics, fluorination (F), battery, green, and functional chemistry. For instance, according to industry research, the approval rate for fluorine-drugs in new pharmaceutical goods climbed from 15% to 26% between 2011 and 2020.  The businesses that invest in these sectors will likely experience steady, long-term growth. Companies like SRF, Navin, and Laxmi Organics are continuously investing in extending the fluorine value chain, which enables them to outpace the industry growth significantly.
Staying the course: 3QFY23 AAA portfolio performance
The 3QFY23 corporate earnings season is a mixed bag. While overall earnings growth is in line with estimates, there are huge divergences within the sectors. That further cements our view that 2023 will likely be a year of stock pickers. On an aggregate basis, BSE 500 reported 6.5% earnings growth. Banking delivered 49% growth while commodity sectors (metal, oil, gas) were major draggers. Although the headline number is not impressive, almost 33% of the universe registered 25%+ YoY profit growth, implying the opportunity to select the right companies despite headwinds. In such volatile times, AAA Portfolio companies delivered robust performance during 3QFY23 as shown below:

Market Outlook
We maintain a laser-like focus on the long-term value propositions, competitive edges, active initiatives, expansion prospects, and prospective earnings power of our portfolio companies. Of course, markets will continue to be impacted by the depth of a recession, the direction of inflation and interest rates, and geopolitics. Still, we think that the strong become stronger during challenging periods like these. In other words, we think companies with strong balance sheets that can fund growth on their own are better positioned to endure economic downturns, remain resilient, and expand their market share while rivals shrink.
AAA PMS Performance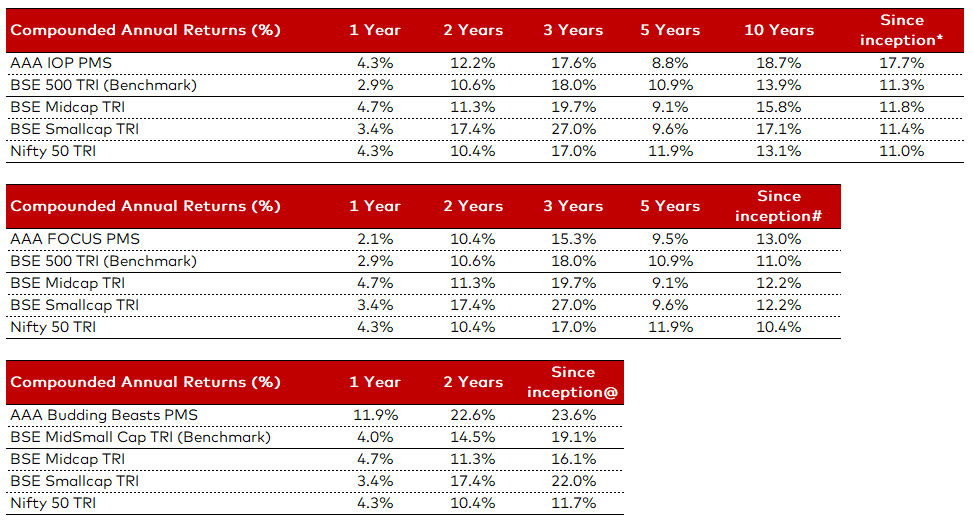 (AAA Emerging Giants PMS Plan has been renamed as AAA Budding Beasts PMS Plan)
* (23 Nov 2009 – 28 Feb 2023); #(17 Nov 2014 – 28 Feb 2023); @(01 Jan 2021 – 28 Feb 2023)
Performance is after all expenses and fees from April 2018 onwards. Prior to April 2018, the performance is after all expenses and Fixed Management fees. Index performance is calculated using Total Return Indices, as per SEBI guidelines.
Note: Returns of Individual clients may differ depending on the time of entry in the strategy. Past performance may or may not be sustained in the future and should not be used as a basis for comparison with other investments. Performance related information provided herein is not verified by SEBI.
DISCLAIMER: This document is not for public distribution and has been furnished to you solely for your information and may not be reproduced or redistributed to any other person. The manner of circulation and distribution of this document may be restricted by law or regulation in certain countries, including the United States. Persons into whose possession this document may come are required to inform themselves of, and to observe, such restrictions. This material is for the personal information of the authorized recipient, and we are not soliciting any action based upon it. This report is not to be construed as an offer to sell or the solicitation of an offer to buy any security in any jurisdiction where such an offer or solicitation would be illegal. No person associated with AlfAccurate Advisors Pvt Ltd is obligated to call or initiate contact with you for the purposes of elaborating or following up on the information contained in this document. The material is based upon information that we consider reliable, but we do not represent that it is accurate or complete, and it should not be relied upon. Neither AlfAccurate Advisors Pvt Ltd., nor any person connected with it, accepts any liability arising from the use of this document. The recipient of this material should rely on their own investigations and take their own professional advice. Opinions expressed are our current opinions as of the date appearing on this material only. While we endeavour to update on a reasonable basis the information discussed in this material, there may be regulatory, compliance, or other reasons that prevent us from doing so. Prospective investors and others are cautioned that any forward-looking statements are not predictions and may be subject to change without notice. We and our affiliates, officers, directors, and employees worldwide, including persons involved in the preparation or issuance of this material may; (a) from time to time, have long or short positions in, and buy or sell the securities thereof, of company (is) mentioned herein or (b) be engaged in any other transaction involving such securities and earn brokerage or other compensation or act as a market maker in the financial instruments of the company (is) discussed herein or may perform or seek to perform investment banking services for such company(is)or act as advisor or lender / borrower to such company(is) or have other potential conflict of interest with respect to any recommendation and related information and opinions. The same persons may have acted upon the information contained here. No part of this material may be duplicated in any form and/or redistributed without AlfAccurate Advisors Pvt Ltd.'s prior written consent. No part of this document may be distributed in Canada or used by private customers in the United Kingdom. In so far as this report includes current or historical information, it is believed to be reliable, although its accuracy and completeness cannot be guaranteed.