The AAA portfolio delivered robust sales and EBITDA growth during 2QFY23. The strong performance was due to a combination of factors – the right sectoral allocation as well as the right stock selection within the sectors. We were early in identifying three sectors – capital goods, automobile, and specialty chemicals. In capital goods, the AAA portfolio not only registered revenue and EBITDA growth but also witnessed order-inflow growth of more than 20%, marking the third consecutive quarter of strong performance. This not only offers future revenue visibility but also reflects the underlying trends in the economy. In the automobile sector, our preference to play the sector through passenger vehicle (PV), commercial vehicle (CV), and auto ancillaries and avoiding direct exposure to two-wheelers (2W) OEM segment worked well. The difference was stark as PV and CV registered volume growth of 38% and 36% as against 2W volume growth of 7%. In the specialty chemical space, despite headwinds on inventory losses, AAA portfolio companies registered stellar performance and companies have announced new capex for future growth. The Banking sector reported a solid quarter led by healthy loan growth, margin expansion, and continued moderation in provisions. Loan growth was led by sustained traction in Retail and SME segments, along with a sharp revival in corporate loan.

Market Outlook
India is a bright spot in a troubled world economy. High-frequency indicators like GST collection, peak power demand, recovery in air travel, sales of apparel, QSR, auto, housing, capital goods, and improving capacity utilisation are positive. Rural India was adversely impacted in first half but we expect that to improve with a decline in inflation and a strong rabi crop. India nearing a new capex super cycle, in our view, with private spending likely coinciding with ongoing public outlay. Private capex stimulus to stem from decarbonisation, PLI, and China+1, implying fresh investments. On profitability front, corporate India was adversely impacted during the last two quarters due to the higher raw material prices resulting in a decline in gross margins. However, as commodity prices have declined in recent times, we expect gross margins to improve from current levels. Hence, we believe that multiple factors will support the corporate earnings growth momentum and will cushion the downside impact in a scenario where the world enters into a slow growth lane in 2023.
AAA PMS Performance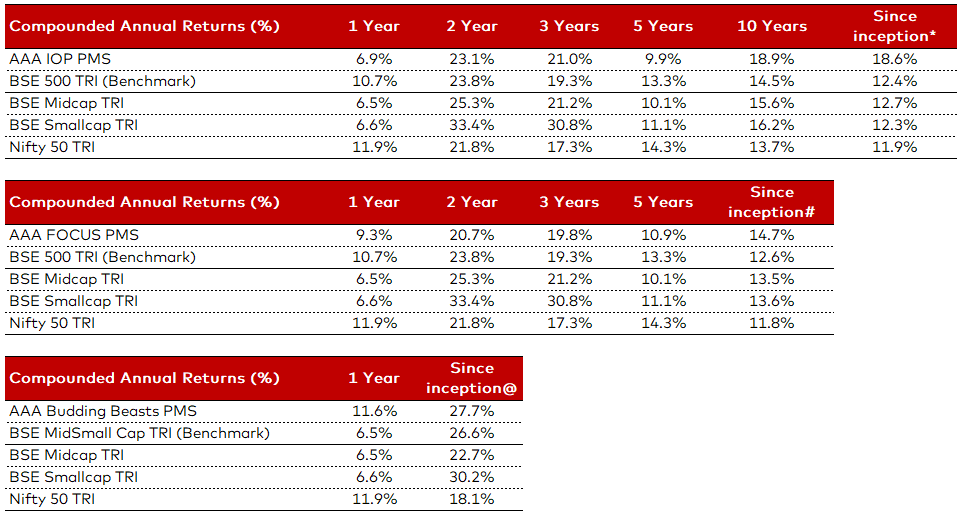 (AAA Emerging Giants PMS Plan has been renamed as AAA Budding Beasts PMS Plan)
* (23 Nov 2009 – 30 Nov 2022); #(17 Nov 2014 – 30 Nov 2022); @(01 Jan 2021 – 30 Nov 2022)
Performance is after all expenses and fees from April 2018 onwards. Prior to April 2018, the performance is after all expenses and Fixed Management fees. Index performance is calculated using Total Return Indices, as per SEBI guidelines.
Note: Returns of Individual clients may differ depending on the time of entry in the strategy. Past performance may or may not be sustained in the future and should not be used as a basis for comparison with other investments. Performance related information provided herein is not verified by SEBI.
DISCLAIMER: This document is not for public distribution and has been furnished to you solely for your information and may not be reproduced or redistributed to any other person. The manner of circulation and distribution of this document may be restricted by law or regulation in certain countries, including the United States. Persons into whose possession this document may come are required to inform themselves of, and to observe, such restrictions. This material is for the personal information of the authorized recipient, and we are not soliciting any action based upon it. This report is not to be construed as an offer to sell or the solicitation of an offer to buy any security in any jurisdiction where such an offer or solicitation would be illegal. No person associated with AlfAccurate Advisors Pvt Ltd is obligated to call or initiate contact with you for the purposes of elaborating or following up on the information contained in this document. The material is based upon information that we consider reliable, but we do not represent that it is accurate or complete, and it should not be relied upon. Neither AlfAccurate Advisors Pvt Ltd., nor any person connected with it, accepts any liability arising from the use of this document. The recipient of this material should rely on their own investigations and take their own professional advice. Opinions expressed are our current opinions as of the date appearing on this material only. While we endeavour to update on a reasonable basis the information discussed in this material, there may be regulatory, compliance, or other reasons that prevent us from doing so. Prospective investors and others are cautioned that any forward-looking statements are not predictions and may be subject to change without notice. We and our affiliates, officers, directors, and employees worldwide, including persons involved in the preparation or issuance of this material may; (a) from time to time, have long or short positions in, and buy or sell the securities thereof, of company (is) mentioned herein or (b) be engaged in any other transaction involving such securities and earn brokerage or other compensation or act as a market maker in the financial instruments of the company (is) discussed herein or may perform or seek to perform investment banking services for such company(is)or act as advisor or lender / borrower to such company(is) or have other potential conflict of interest with respect to any recommendation and related information and opinions. The same persons may have acted upon the information contained here. No part of this material may be duplicated in any form and/or redistributed without AlfAccurate Advisors Pvt Ltd.'s prior written consent. No part of this document may be distributed in Canada or used by private customers in the United Kingdom. In so far as this report includes current or historical information, it is believed to be reliable, although its accuracy and completeness cannot be guaranteed.